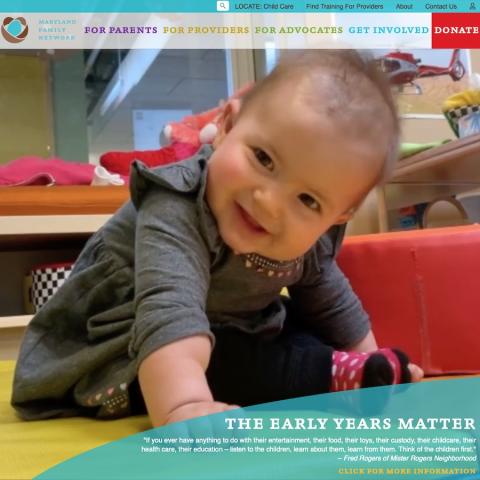 Maryland Family Network Case Study
Maryland Family Network ensures that young children have strong families, quality learning environments, and a champion for their interests.
Please think of the children first. If you ever have anything to do with their entertainment, their food, their toys, their custody, their childcare, their health care, their education – listen to the children, learn about them, learn from them. Think of the children first." — Fred Rogers of Mister Rogers Neighborhood
New design with simplified, accessible navigation.
Objective
Maryland Family Network's original site had grown unwieldy due to business expansions and acquisitions at the successful non-profit. Their site was built with WordPress and had become cumbersome for employees to manage and for clients to navigate. By adding new areas to the site, the navigation had become multi-layered, therefore increasing the complexity and time for users to find important information. The site had become slow to load and it's aesthetic tired.
Maryland Family Network needed a modern and fast site that would allow for employees to regularly add new content. Clients, from childcare service professionals to the general public, needed the site have a consistent approach to content, so becoming simple to search and easy to navigate.
Old design with many competing layers of navigation.
Our Approach
Initially, we needed to take an inventory of the existing site's content so we could determine how to best organize it. Working through the site, we were able to pare down duplicated content and develop a workflow to make future updating easy. Pip Coders' editorial director, Martha Thomas, in conjunction with MFN Communications Director, Doug Lent, rewrote a considerable amount of the MFN site to create 'content buckets' to standardize content creation. They succeeded in reducing the original site's complexity and honed a succinct message for Maryland Family Network.
Once we understood the how the content would be organized, we could develop a new, more engaging design. We wanted to amalgamate their print design concepts to complement their MFN style identity. Since Maryland Family Network is a non-profit focusing on the wellbeing of young children, we wanted the aesthetic to be colorful and fun while being effortless to navigate. Working closely with their marketing team, we produced interconnected wireframes that demonstrated our approach. The navigation was simplified to offer multiple ways to find content. We decided on pictorial menu blocks for accessibility, a quick-find dropdown menu and a search facility integrated on a high-capacity Solr server.